It has been over 50 years since humankind first went to space and stepped on the moon, and space remains a perilous frontier for both people and companies. While scientists and science fiction enthusiasts expected space to be the largest industry of the 21st century, space companies have instead languished in relative obscurity. For a very long time, there just wasn't much money to be had in space, nor many must-buy space stocks to invest in.
That may be changing, and this century may indeed be the era of space. As NASA and other government organizations have stepped back, private companies have stepped into the limelight. Now both government and scientific missions are flying on private-sector vehicles with private-sector pilots. The space industry may be entering a virtuous cycle, where strong earnings can be reinvested back into the industry, enabling fast growth. All sectors need such a cycle, and even computers would have been but a novelty if no one could manage to monetize them. Now, it's space's turn.
If this is the century of space, now is the best time to invest. Many of the top space stocks are small and nimble companies able to grow fast with new technology. Joining them are more established companies with deeper pockets and more proven technology. No matter your risk appetite, there is a space stock for you. Here are the leading space stocks that can send your portfolio to the stars.
Rocket Lab (RKLB)
Rocket Lab (NASDAQ:RKLB) is a rocket launching company deploying not only NASA satellites but also private ones — and this business is doing it with a reusable rocket. The Rocket Lab Electron is that rocket, and if the company can keep costs down, it will help spur an uptake in the industry. Reusable rockets have become the buzzword of many space stocks. These vehicles are expensive capital investments, and losing them with each mission would be a significant waste. Electron can be recovered from the water shortly after launch and towed back to port for its next mission.
While Electron is a relatively small rocket, it's still capable of big missions. NASA, for instance, is using it to put together the TROPICS constellation. That collection of satellites can monitor storms and help provide more accurate forecasting of severe weather. That can save lives as Mother Nature continues to intensify. So, while the Electron isn't sending up astronauts, it's still in demand as a key vehicle to send payloads into space.
Rocket Lab's Q2 2023 earnings report shows them as still speculative but making good progress toward profit. Revenue increased year-on-year while the cost of revenue decreased. That resulted in a gross profit of $14.6 million versus Q2 2022's $5 million. However, while gross profit was up, expenses grew faster. The company's net loss grew from $37.4 million to $46 million. With $197 million in cash and cash equivalents plus $144 in marketable securities, Rocket Lab isn't in danger of bankruptcy. But it does need to become profitable sooner rather than later.
Ultimately Rocket Lab is still a space stock with huge potential, even as a speculative investment. If you're willing to bet big on space stocks, RKLB should definitely be on your watchlist.
Virgin Galactic (SPCE)
Richard Branson's Virgin Galactic (NYSE:SPCE) has long seemed an unprofitable boondoggle on Branson's "Virgin" branded empire. But having brought its first tourists to the edge of space, that may finally be ending. Galactic may join Airlines and Music as a titan of its industry and may push that industry into a new era.
Of course, doing something once or twice is the easy part. Virgin Galactic now has to prove it can do it again and again and prove there is a large enough market for 90-minute trips to space and back. Still, if ever there was a time to buy in or regret missing out on the best space stocks, it will be now — at the very bottom. These first trips will hopefully be a sign of things to come.
Recent investors will likely be wary, of course, as the company has announced it plans to sell $400 million in stock. That dilutes current owners and lowers the stock price. But from the company's perspective, it makes sense as the stock had seen a strong run-up in the months beforehand. Turning that stock price into cash can help offset some of the millions it has in debt.
And for new investors, that cash may allow Virgin Galactic to become a space stock with huge potential. The company's Q2 2023 earnings report showed a net loss of $134 million with revenue of $1.8 million. With $358 million in cash and cash equivalents, that's a very short runway to become profitable. The stock sale increases that runway a lot.
I personally would love to be a space tourist, and if I ever become a millionaire you can bet I'm booking a few flights. If enough people think like me, this is definitely a must-buy space stock.
Boeing (BA)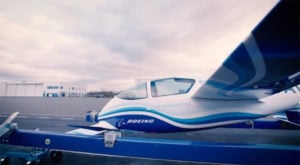 Boeing (NYSE:BA) is an old player in the space industry. Having worked on the Apollo program back in the 1960s, BA been a leading space stock for as long as space stocks have existed. Time will tell if it still has further to fly.
Boeing's most famous contributions to the space industry continue to be government-facing. The company's Space Launch System sent a NASA capsule into lunar orbit last year. As NASA hopes to return to the moon, this was a necessary test flight of the proposed systems. And Boeing has tried to sell the Pentagon on using the system as well.
However, Boeing's success has also been marred by failures. The company's Starliner capsule, which was supposed to send astronauts to the International Space Station (ISS), has faced long delays. And with the ISS set for decommissioning in 2030, the Starliner may emerge from testing without a market. That's if delays go long and no replacement space station is commissioned.
Still, as an older and established company, Boeing is one of the safest bets you can make if you want to bet on space. The company's Q2 2023 earnings report showed revenue of $19.8 billion, up from $16.7 billion in Q2 2022. Net loss was $149 million, however, versus net earnings of $160 million last year during the same quarter.
Most of Boeing's revenue doesn't come from space, so it has a strong foundation of cash flow to keep building and researching off of. And if the space industry does achieve explosive growth, Boeing's strong cash position means it can be right there to take advantage. That makes it a leading space stock you won't want to miss.
On the date of publication, John Blankenhorn did not hold (either directly or indirectly) any positions in the securities mentioned in this article. The opinions expressed in this article are those of the writer, subject to the InvestorPlace.com Publishing Guidelines.